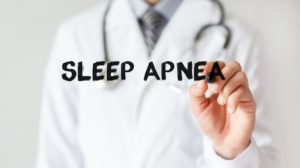 Many people think that dentists are all about the teeth and gums. They might not realize that quite a few oral health professionals have undergone extra training that allows them to treat obstructive sleep apnea in Mansfield. Because dentists have such an in-depth understanding of the oral structures, they are uniquely qualified to offer therapies that promote easier breathing at night. Let's talk about the steps they may take to help you reclaim a better night's sleep.
Testing and Diagnosis
Obstructive sleep apnea (OSA) is a disorder wherein the soft tissues in the mouth prevent the free flow of air at night, which results in brief periods wherein a person is not breathing. If your partner has commented that you snore loudly, that is one of the telltale signs that you may suffer from OSA. Other signs include feeling exhausted all the time, waking up gasping for breath, frequent morning headaches, and trouble concentrating throughout the day.
To find out for sure whether you have sleep apnea, ask your dentist about undergoing a sleep test. These tests usually happen in a sleep lab, but you may be able to bring a device home with you that monitors your nighttime breathing patterns while you snooze in the comfort of your own bed. A qualified sleep physician will analyze the results of the test and let you know for sure whether you have OSA.
Your Treatment Options
Once your diagnosis is in hand, you can begin to explore your treatment options.
A CPAP machine is a device that gently pushes air into your airway while you sleep, which helps to ensure uninterrupted, high-quality sleep.
An oral appliance is a custom device that your dentist designs to reposition your jaw at night. It helps to prevent the soft tissues in the oral cavity from obstructing airflow at night.
Combined therapy involves the use of both a CPAP machine and an oral appliance.
Your Consultation and Fitting
If your doctor advises that an oral appliance may be a viable treatment option for you, you can return to your dentist for a consultation. They'll examine your mouth, answer your questions about obstructive sleep apnea treatment in Mansfield, and get to work on designing your treatment device. They'll use images and impressions of your teeth and other oral structures to make sure that your appliance fits perfectly.
Discover a Better Night's Rest
Once your oral appliance arrives and you begin to use it, it won't be long before you begin to reap the benefits of high-quality sleep! You can look forward to having more energy during the day, your partner will stop complaining about your snoring, and you'll experience a number of significant health benefits.
Are you struggling to get the restful shuteye you deserve? You may need to visit your dentist to discuss sleep apnea treatment.
About the Author
Dr. Sandi Hamm has been serving patients for nearly 30 years. She is a member of the American Academy of Dental Sleep Medicine, the American Sleep and Breathing Academy, and the Spencer Sleep Study Club. To learn how she may be able to help you sleep more soundly, contact our office at 817-477-4441.