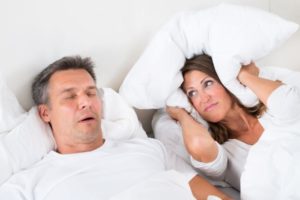 You may need sleep apnea treatment in Mansfield if you suffer from unexplained daytime fatigue or drowsiness. Your dentist can help by reviewing your medical history, performing a complete oral examination, and, if necessary, authorizing a sleep study.
Seven Common Symptoms of Sleep Apnea
Make an appointment with your dentist or other healthcare professional right away if you notice any of these sleep apnea warning signs:
Persistent daytime fatigue, especially if you're getting at least eight hours of rest per night. This is a sign that your sleep is less restful than it should be.
Anxiety, depression, or irritability unrelated to known causes. While these problems have many potential causes, lack of quality sleep is a common culprit.
Loud snoring that goes on night after night. If your partner complains that you sound like a buzz saw when you sleep, then you may be suffering from apnea.
Dependence upon caffeine or other stimulants. If you can't make it through your day without multiple cups of coffee or cans of cola, then you should suspect sleep apnea.
Mental fog that lasts throughout the day. If you feel you're not as sharp as you used to be, then sleep apnea may be to blame.
High blood pressure. Again, this is a common ailment with many possible causes. But sleep apnea is one possibility well worth considering.
Waking frequently during the night. Sleep apnea interferes with your ability to breathe while you rest, possibly causing you to awaken multiple times during the evening.
What Causes Sleep Apnea?
Sleep apnea can strike anyone, of any age, background or gender. However, it's most common among people who share some or all of the following characteristics:
Statistically speaking, men are more likely to suffer from apnea than women.
Excess weight. Those who are moderately to severely obese are far more likely to suffer from apnea symptoms.
Nasal obstructions. These can be caused by sinus issues, allergies, or a deviated septum.
Hereditary factors. You're more likely to suffer from sleep apnea if one or both of your parents was diagnosed with the condition.
Lifestyle factors. Sleep apnea is associated with lack of exercise, a poor diet, and an irregular schedule.
How Is Sleep Apnea Treated?
Today's healthcare professionals have more options for treating apnea than ever before. Talk to your dentist about these approaches:
A CPAP mask. These products provide continuous airway flow throughout the night, preventing mouth and throat obstructions.
Many sleep apnea sufferers find relief after undergoing surgery to reduce mouth or throat tissue.
Nighttime mouthguards. These products keep the patient's jaw in a neutral position during sleep.
Changing your sleep surface. Some sleep apnea patients report positive results from using a wedge pillow or elevating their mattress by a few inches.
Only your dentist or other qualified medical professional can diagnose sleep apnea in Mansfield. Make an appointment for a full checkup and oral exam in the near future. You'll soon be enjoying better rest, more energetic waking hours, and a happier life overall.
About the Author
Dr. Sandi Hamm is a Baylor graduate and a sleep medicine specialist. She has been an active member of the Mansfield community since 1992. You can reach her office online or by calling (817) 477-4441.