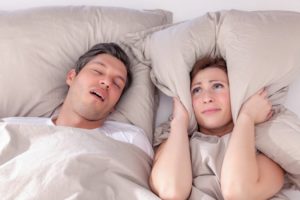 If sleep apnea is a foreign concept to you, you'll be surprised to know that more than 22 million people suffer from this common sleep disorder. Many of these cases, nearly 80%, are often misdiagnosed or undiagnosed because of its many symptoms that can be easily mistaken for other health-related problems. From snoring and irritability to forgetfulness and morning headaches, if any of the symptoms are ones you may be experiencing, read on to learn more about obstructive sleep apnea.
What is Obstructive Sleep Apnea?
Obstructive Sleep Apnea (OSA) occurs when a person stops breathing for 10 seconds or more while they're asleep. This happens due to the soft tissues and throat becoming fully relaxed and ultimately, blocking the individual's airway. Should a person stop breathing, the brain is triggered to alert the body of its need to breathe. To allow for proper oxygen flow, the person wakes up and may sometimes gasp for air. This can happen once or hundreds of times each night.
OSA creates a disrupted sleep cycle that can be harmful to one's brain function and overall health. Someone with OSA will typically feel fatigued throughout the day, be irritable, and have headaches.
What Are the Health Risks Associated with Obstructive Sleep Apnea?
Because your blood pressure rises when the body is alerted to wake up, it can put a significant amount of strain on your cardiovascular system. The heart must work even harder to push oxygenated blood through your body, which results in elevated blood pressure. When this happens over and over again, it can result in a heart attack or stroke.
Other health risks associated with OSA include:
Depressions
Diabetes
Heart disease
High blood pressure
Can You Have OSA and Not Snore?
Absolutely! Plenty of people with obstructive sleep apnea do not snore. When a person snores, there is somewhat of a blockage due to the soft palate and base of the tongue collapsing toward the back of the throat. However, for someone who doesn't snore, or who no longer snores, this may mean there is a full blockage, indicated the OSA has worsened.
Why Are Women Less Likely to Have It Than Men?
You should first know that no one is "immune" from sleep apnea. Men, women, and even children have the disorder, but women are actually 8% less likely to develop obstructive sleep apnea than men. Part of this is because it's often more difficult to diagnose in women.
Symptoms of snoring and paused breathing are normal for men to experience; however, women are more likely to have insomnia, fatigue, headaches, and mood changes as a result of OSA. More women are misdiagnosed because of these symptoms, often with doctors claiming it is depressions, menopause, or anemia causing the problem.
Thankfully, more and more researchers and doctors are becoming more aware of the issues and symptoms women may present that could be attributed to OSA.
Obstructive sleep apnea is a serious disorder that should be treated by a professional as soon as you notice symptoms. Without proper treatment, it can cause severe health problems that can have unfortunate outcomes. If you think you may have sleep apnea, talk to your doctor today.
About the Author
Dr. Sandi Hamm earned a Bachelor of Science degree in dental hygiene from Texas A&M University before going on to Baylor College of Dentistry and completing her DDS degree. Practicing comprehensive dentistry for many years, she became interested in sleep medicine and expanded her dental knowledge to help people suffering from sleep apnea. If you think you may have apnea and have questions about treatment, visit our website or call (817) 477-4447.