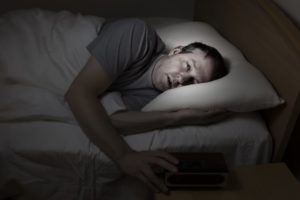 Sleep apnea is a disorder that affects millions of Americans. What's even more shocking is that it's estimated that 80% of sleep apnea cases are undiagnosed. This occurs when your airway becomes blocked during sleep, causing you to start and stop breathing repeatedly. If you notice that your partner is a loud snorer, they may have sleep apnea. Thankfully, there's a test they can take to see whether or not they have this disorder. Keep reading to learn how to convince your loved one to take a sleeping test to see if they need obstructive sleep apnea treatment in Mansfield. It could give them back their well-deserved rest.
#1. Be Observant and Do Research
It's one thing to have your partner tell you that they aren't sleeping well, but it's another to see for yourself. You should watch how they sleep and take note of their behaviors while they are asleep to compare with some research on your own. After some quick internet searches on sleep apnea, you can see that it leads to even more risks than poor rest.
#2. Know the Symptoms
If you can watch their behavior during sleep, you may be able to match some of the common symptoms of sleep apnea with their signs of poor rest. Be on the lookout for these telltale symptoms:
Loud snoring
Frequent pauses in breathing
Daytime sleepiness
Restlessness
Frequently waking with headaches
High blood pressure
Often irritable or depressed
#3. Express Your Concerns
Now that you know what sleep apnea is as well as its symptoms, it's time to tell your partner how important it is that they get some help. Show them the facts you've learned about sleep apnea as well as share your own observations to present logical reasoning. Avoid talking about the loud snoring or inconvenience it causes, but rather talk about the damage sleep apnea can do to their health.
#4. Gather Evidence
It's just a fact that some people can be stubborn. So, if you present your argument and your partner still doesn't want to take a sleep test, the only thing left to do is to show them proof. You can record their sleep behavior to show them what is truly going on. Once they see firsthand what their sleep looks like, they may be a lot more likely to seek help.
#5. Encourage Your Partner to Follow Through
Getting your partner to take a sleep test is great so they can have a real answer to their sleep problems, but they will only see improvement if they seek treatment. Your dentist can expertly treat obstructive sleep apnea in Mansfield using an oral appliance to open their airway. This keeps them breathing regularly for a comfortable sleep.
Does it sound like your partner could benefit from taking a sleep test? Contact your dentist to get started on a better sleep for the both of you!
Meet the Dentist
Dr. Sandi Hamm is a native Texan with almost 30 years of dental experience. She understands how sleep apnea can affect you and your partner, which is why she offers a variety of treatment options. She currently practices at Mansfield Snore & Sleep Solutions, and she can be contacted through her website or by phone at (817) 477-4447 for any questions.